Getting your money back from bailiffs using chargeback
A chargeback is a forced transaction reversal to your account by your bank.
See also, postponed chargeback - get the bailiffs to pay your debt!
Telephone your bank and say that you want to dispute a transaction and ask for a chargeback form. Return the form it to your bank within 120 days (debit card) or 90 days (credit card) from the date you became aware of the dispute.
Ask the bank to cancel the card and issue a new one. That stops the bailiff company attempting to re-charge your card.
Your bank may resist reversing the transaction, so you must be clear with your grounds and documentary evidence, such as a receipt from the bailiff. It's worth noting most bank staff don't know about chargeback, so ask to speak to a supervisor.
Use any of the following grounds known to work. NEVER use the word "bailiff" on the form.
The merchant forced me to make over my card details by placing me under undue pressure exerted upon me to coerce that me to perform an act that I ordinarily would not perform and this constitutes a misrepresentation to obtain a money transfer. I asked the merchant to refund the money who refused to do so and is in breach of contract and remains indebted to me.
Chargeback is less well-known than Section 75 of the Consumer Credit Act 1974 and bank staff working in local high-street branches may not be aware of this rule. This is usually a pretence. This is because the chargeback scheme is an agreement between card issuers to return your money should something go wrong with a debit or credit card transaction.
It strengthens your case if you are able to quote a police crime reference number or an incident number.
If you paid with a credit card then you can sue your bank and the merchant bailiff jointly in the small claims court for breach of contract under Section 75 of the Consumer Credit Act 1974. However you can't take your bank or card provider to court over failing to honour a chargeback because there is no legal backing to the scheme.
If your chargeback is successful then the bailiff company pays an administration fee between £10 and £80 under the terms of their Merchant Service Agreement.

If the bailiff has already paid the debt to the council or creditor before you apply chargeback, then you may be refunded twice because the creditor or council refunds you if you successfully challenge or appeal the original debt.
Some banks will refund your account straight away. They might reserve the right to take the money back if your claim is unsuccessful. some banks say they will make an "investigation".
Example grounds for apply for a chargeback
Example Claim Particulars for making a claim
Warning:
Some bailiff companies react angrily when they discover a chargeback. In this example, they can even resorted to making untrue statements.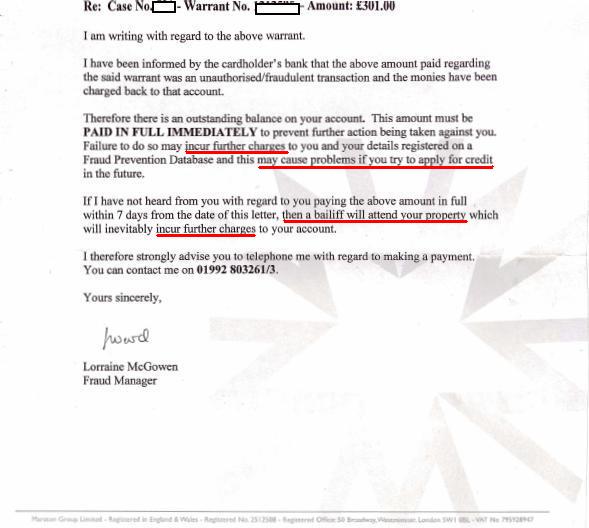 If your chargeback is rejected by your bank, then you can take your case to the Financial Conduct Authority within six months of your final resolution, or you can take your bank to court by completing a Form N1
If you paid a bailiff with a CREDIT card then you have the added protection of Section 75 of the Consumer Credit Act 1974 which places a liability on the credit card company and the merchant if something goes wrong.
It strengthens your application considerably if you support it with a sworn statement of truth proving the card transaction was made under duress. This increases the chances of getting a rapid chargeback to a near certainty and you get your money back without needing to litigate.
The law says when the debt is paid, the enforcement power ceases to have effect. Paragraph 6(3) of Schedule 12 of the Tribunals Courts and Enforcement Act 2007 states;
The property in all goods ceases to be bound when any of these happens—

(a)the amount outstanding is paid, out of the proceeds of sale or otherwise;

(b)the instrument under which the power is exercisable ceases to have effect;

(c)the power ceases to be exercisable for any other reason.
Guideline 31 of the Taking Control of Goods: National Standards 2014. states;
Enforcement agents must not seek to enforce the recovery of fees where an enforcement power has ceased to be exercisable.

There is nothing in enforcement regulations that enables a bailiff company to revive a warrant after its enforcement power has been extinguished.